I just want to let anyone and everyone know about this fantastic resource!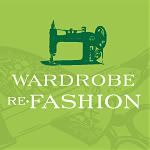 You can pledge for two, four or six months or if you're feeling thriftier than a flea market you can sign up for life. The pledge is that you cannot buy new clothing. That's it! And since new clothing these days is cheaply mass produced and likely to last all of 5 minutes it's really easy. By buying things from carity shops, jumble sales, flea markets etc. you're doing your bit for society and also for your pocket :)
You become a guest author on Nikki's blog so there are loads of really good resizing, embellishing and refashioning ideas posted by real-life pledgees.
I'm in a six month sign-up just entering my fourth month but I reckon I could easily do life. I've always made a bit, altered a bit and bought a bit, but after looking at my overflowing wardrobe of clothes I hardly (or never) wear, plus my addiction to the Sally Army, I realised I may never have to buy any clothes again!
If anyone has been watching Mary Queen of Charity Shops, you'll have seen that they need us to not only buy but to donate quality stuff. So, sign up for Wardrobe Refashion, donate anything you can't see a use for, and 'swap' it for something that shows promise.